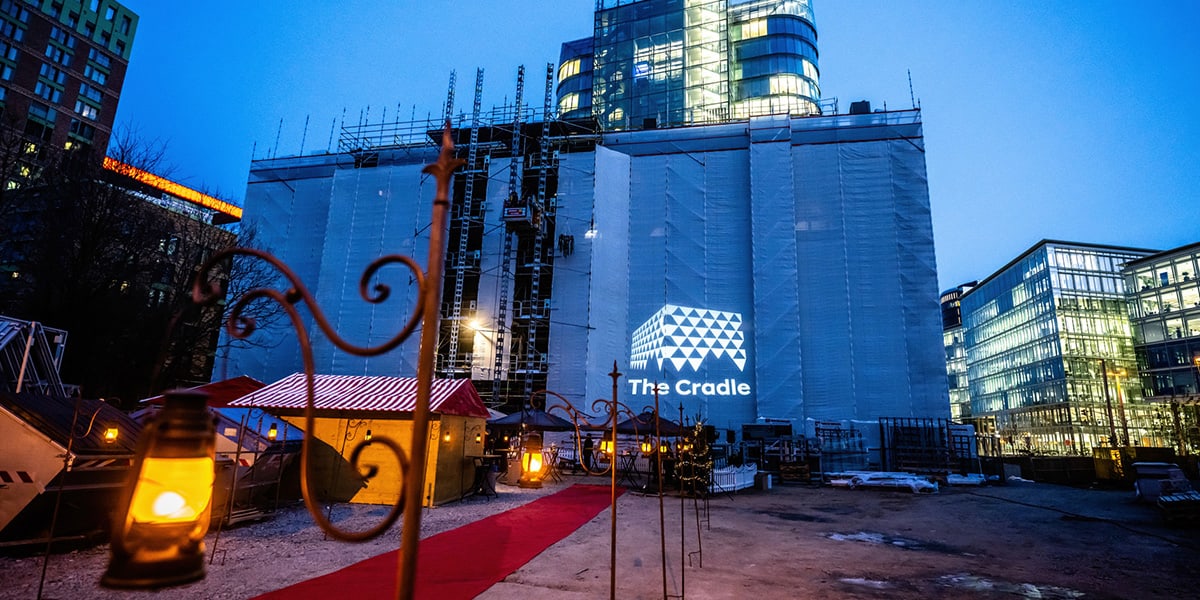 13th December 2022
The Cradle celebrates topping-out ceremony
Düsseldorf, 13th December 2022. Under the motto "Cradle to Christmas," INTERBODEN celebrated the topping-out ceremony of the sustainable iconic project, The Cradle, in the festive atmosphere of Düsseldorf's MedienHafen. The event was attended by project partners HPP Architects and timber construction company DERIX, other contractors involved in the construction site, future tenants, as well as numerous guests from politics and business. The topping-out ceremony marked the completion of the structural and timber construction of the sustainable flagship project. The Cradle is the first hybrid timber office building in Düsseldorf developed according to the Cradle-to-Cradle© principle, with the majority of its materials being returned to the material cycle.
Guests were welcomed at a Christmas market and then led into the festively decorated interior of the future gastronomy HATO. There, Thomas Götzen, CEO of INTERBODEN, opened the event by highlighting the importance of the project for the company and the industry. Subsequently, Mayor Josef Hinkel emphasized the significance of The Cradle for the economy and real estate location of Düsseldorf. Carsten Boell, Managing Director of INTERBODEN Gewerbewelten, spoke about the motivations and challenges of carrying out such a project: "It is a major milestone that we have achieved. We hope that the radiance and completion of this project will inspire further emulation for courage, determination, and entrepreneurial spirit." Gerhard G. Feldmeyer, Senior Partner at HPP Architects, concluded the speeches by contextualizing The Cradle within its architectural features. Exclusive catering by HATO, known for its Fine Asian Cuisine and already confirmed as a tenant of the gastronomy spaces at The Cradle, was served during the speeches. Future tenants of the office spaces, co-working provider Spaces and consulting company FGS Global, were also among the guests.
After the speeches, there was an emotional moment: 12-year-old Nele recited a modified topping-out ceremony verse that addressed the topics of resource scarcity and Cradle-to-Cradle©. "As resources on Earth become scarcer and more expensive, we must now rethink and finally switch course." The actual topping-out ceremony verse, given by the carpenter from timber construction company DERIX, honoured the craftsmanship on the construction site.
"We all associate so much with this project on a small plot of land, but it is also something grand and pioneering for the construction and real estate industry," described Carsten Boell the milestone. "At this point, it means looking back and thanking all the companies involved in the construction and consulting, and above all, the people who are pioneering with us here. It also means looking to the future: the upcoming interior fit-out, the implementation of the mobility concept beyond the boundaries of the plot, and the continuation of circular building at a higher level."i