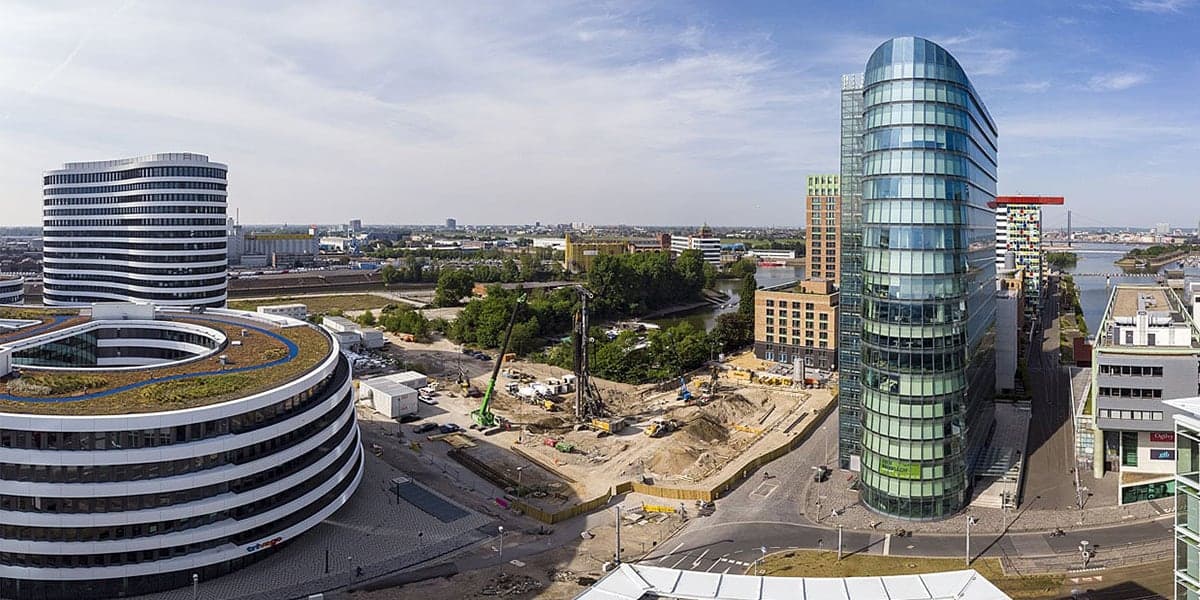 22th April 2020
Start of construction for The Cradle
Düsseldorf, 22th April 2020. The construction of the first timber hybrid office building in the state capital has begun on schedule in the Düsseldorf MedienHafen: INTERBODEN is developing one of Germany's most sustainable properties with The Cradle. The building permit is therefore the starting signal for extensive civil engineering work, which is expected to last until the end of 2020 due to its proximity to the Rhine River.
The Cradle project, which has already won multiple awards, including the renowned MIPIM Architectural Review Future Project Award, is being built according to the "Cradle-to-Cradle©" principle. The aim is to reduce CO2 emissions to a minimum and to manufacture the majority of components from recyclable materials that can be returned to the material cycle. All materials used can be traced back via a material passport, which specifies their type, lifespan, and position. The Cradle is being developed using a unique timber hybrid construction method, with the building consisting mainly of wood, which will be visible especially on the facade and ceilings. Adherence to the "Cradle-to-Cradle©" principle is of utmost importance in this project, and a "banned list" exists to ensure that materials and connections do not contain any toxic substances.i
"We want to lead the way with The Cradle and consider the project holistically in terms of sustainability and tenant benefits," said Carsten Boell, Managing Director of INTERBODEN Innovative Gewerbewelten. "In recent years, we have gained an enormous knowledge advantage in the practical implementation of sustainable properties. The Cradle will be a landmark for the state capital of Düsseldorf due to its architecture and innovative concept, and it is already having a positive impact on the real estate and construction industry. We are delighted that the project has now started and is being well received by potential tenants. Even six months before obtaining the building permit, we had already pre-leased half of the office space. In addition, highly attractive spaces are still available on the upper floors and the penthouse with a spectacular roof terrace and water view. For a potential tenant with a sustainable corporate strategy who wants to express their pioneering role through their demand for a very special building, this is the right property for the future," said Boell.
INTERBODEN had already rented out around 50 percent of the space to the leading co-working provider Spaces before construction began. With its offering, Spaces will provide added value to both the MedienHafen and other tenants: on four floors and 3,650 square meters, Spaces in The Cradle will offer conventional office use and flexible spaces for startups as well as employees and entire project teams of companies. The hybrid co-working provider offers a combination of private offices, business clubs, open work areas, as well as meeting and conference rooms. Numerous services such as rental bikes, technical support, and gastronomic use complete the offer. The focus is on work comfort, flexibility, and networking.