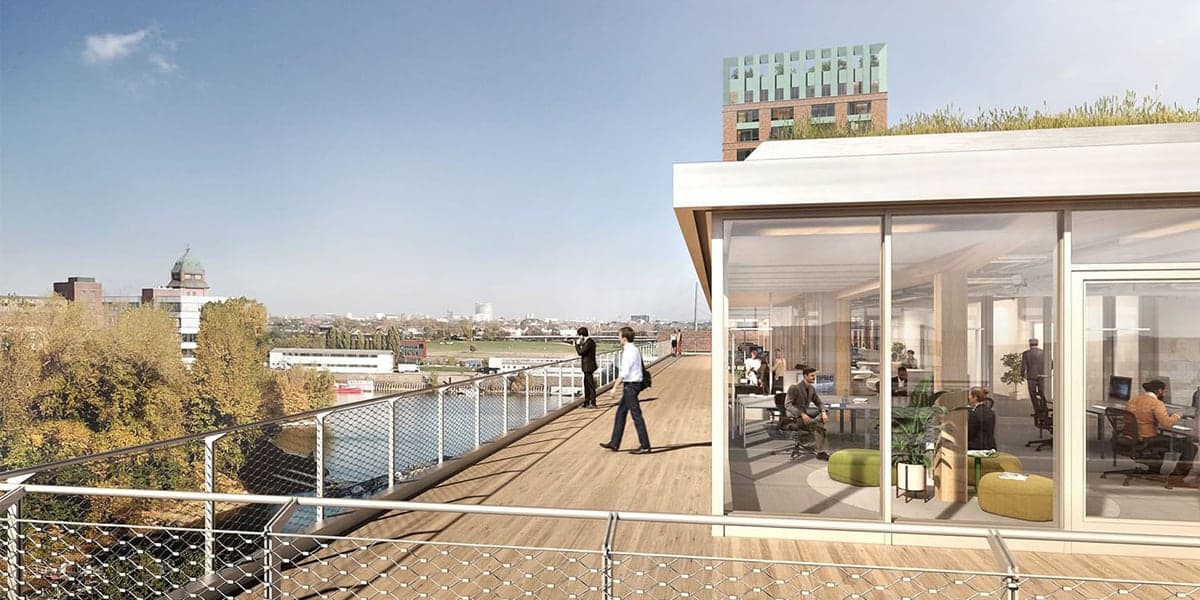 13th March 2018
Innovation award for The Cradle
Düsseldorf/Ratingen, 13th March 2018: The Cradle, Düsseldorf's first timber hybrid office building, has been awarded the internationally renowned MIPIM Architectural Review Future Project Award in the office category during the MIPIM in Cannes. This award specifically recognizes future projects.
The innovative office building is being built in Düsseldorf's MedienHafen and is being developed according to the "Cradle-to-Cradle©" principle, which allows individual building elements to be recycled after use. This type of resource-saving construction optimizes production processes, minimizes the accumulation of non-recyclable materials, and reduces CO2 emissions. Carsten Boell, Managing Director of INTERBODEN Innovative Gewerbewelten, said, "We are very pleased that this innovative and forward-looking project is now receiving the international attention it deserves."
Gerhard G. Feldmeyer, Managing Partner of HPP Architects, describes The Cradle as not only a pilot project for the Düsseldorf MedienHafen, but also a visible sign of sustainable urban development. The building is characterized by the Circular Economy concept. The award reinforces our implementation of this innovative project," he added.
The Cradle is the first timber hybrid office building in the state capital of North Rhine-Westphalia, with 6,600 square meters of usable space and 600 square meters of space for gastronomic use. The mobility concept for the project is also forward-thinking, with INTERBODEN taking a leading role by establishing a mobility service center, a so-called "Mobility Hub," on the ground floor.
The Architectural Review has been awarding the MIPIM Architectural Review Future Projects Awards since 2002. Unbuilt and unfinished projects are honored in twelve categories. The winners are recognized at the MIPIM real estate fair in Cannes. The Cradle was able to prevail against numerous international competitors this year.