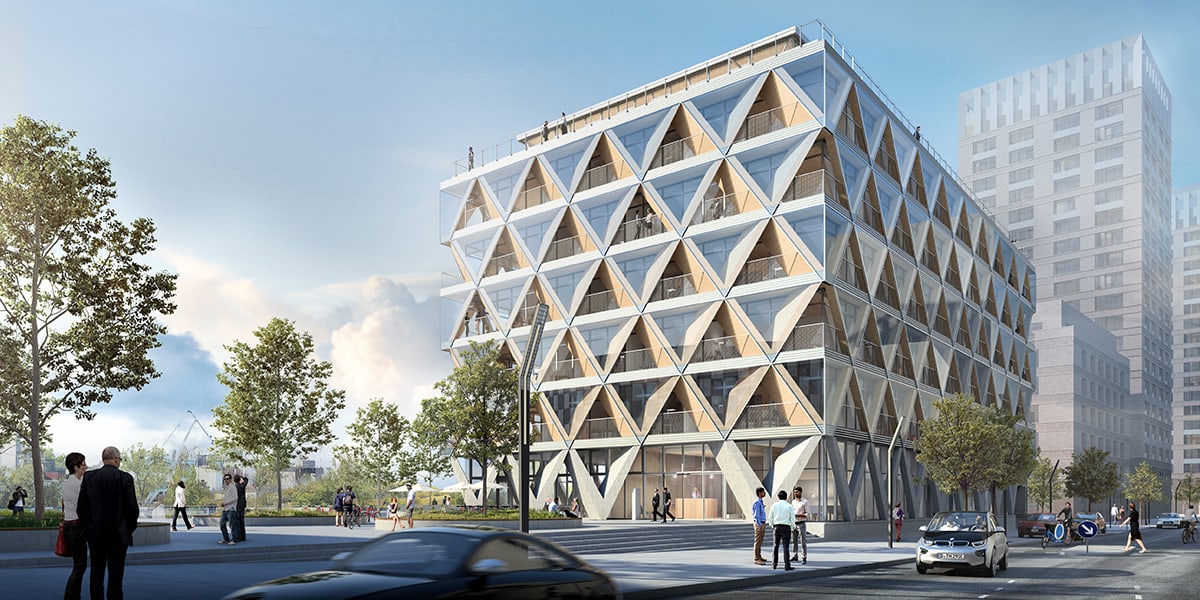 24th Juny 2022
Full occupancy in the sustainable iconic project
Düsseldorf, 24th Juny 2022. The pioneering project The Cradle, designed according to the Cradle-to-Cradle© principle, is fully leased - a year before its completion. The strategic communication and reputation management consultancy FGS Global has leased over 2,600 square meters of office space in the sustainable office building in Düsseldorf's MedienHafen. The globally active consulting firm will move into the premises at Speditionstraße 2 on the upper floors, which not only include office space but also a spacious roof terrace with a view of the harbour basin, shortly after the completion of the project in mid-2023.
"We are delighted to have won FGS Global, not only a highly renowned and globally successful company for our project, but also a tenant who fully identifies with the concept and idea of The Cradle," says Carsten Boell, Managing Director of INTERBODEN Innovative Gewerbewelten. "The early full occupancy of The Cradle, one year before completion, proves to us that the future lies in such sustainable real estate concepts," summarizes Andreas Willms, Project Manager of The Cradle.
Dirk von Manikowsky, Partner at FGS Global in Düsseldorf, explained: "The idea of The Cradle immediately fascinated us and fits perfectly with our own aspiration as a climate-neutral company. Sustainability and the challenges of ESG also play a crucial role for our clients - from strategy development to reputation-critical issues. Our team can't wait to develop the answers in this inspiring working atmosphere in the future. We are impressed with the passion with which INTERBODEN is driving this project forward and are looking forward to the partnership ahead."
FGS Global emerged from the merger of consulting firms Hering Schuppener, the British company Finsbury, and the American communication consultants Glover Park Group and Sard Verbinnen, employing around 1,200 consultants in the most important economic centers and metropolises of the world. In Germany, the company has locations in Berlin, Düsseldorf, Frankfurt, and Munich, currently still at Berliner Allee in the CBD of the state capital of North Rhine-Westphalia.
BNP Paribas Real Estate provided advisory services in the lease agreement between INTERBODEN and FGS Global. BNP Paribas Real Estate was already exclusively commissioned with the marketing of the property and has already brokered the coworking provider Spaces as an anchor tenant.