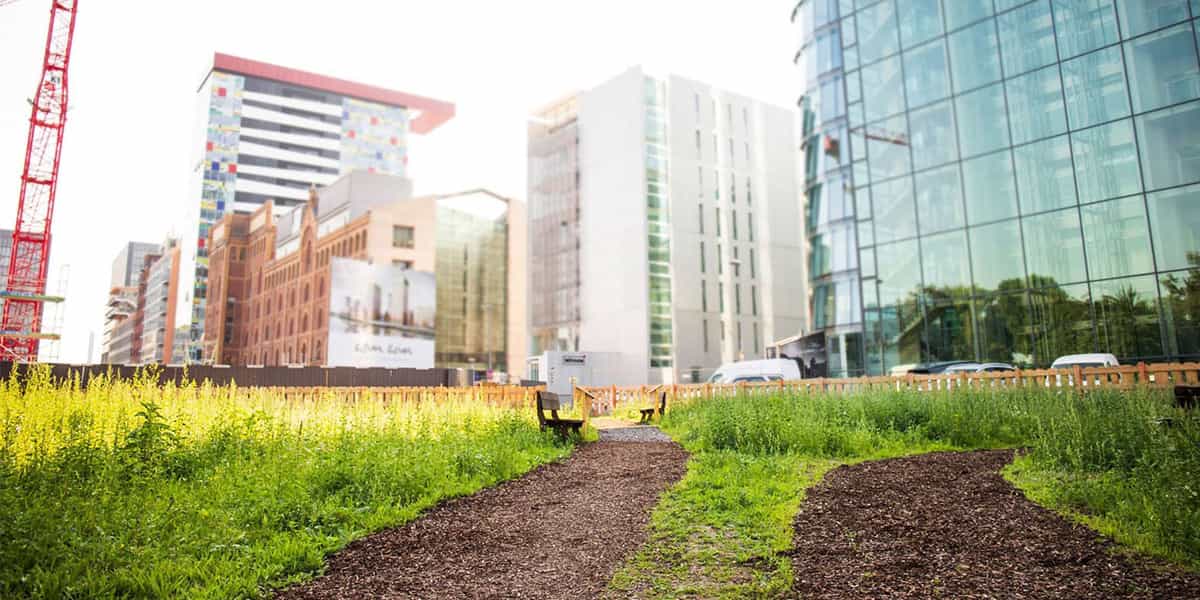 25th July 2018
Ecological interim use at the MedienHafen: Wildflower meadow on the site of The Cradle
Düsseldorf/Ratingen, 25.07.2018: A flower meadow in the middle of the industrially influenced MedienHafen – on time for yesterday's invitation, the attending journalists were able to marvel at the first sprouting greenery at this rather unusual location. The meadow, on which wildflowers were sown, is the core idea of the interim use concept for the property on Speditionstraße. With The Cradle, the first timber hybrid office building in Düsseldorf will be built on the site.
"Until the construction of the first recyclable office building in North Rhine-Westphalia begins next year, it will take some time. In the meantime, we want the site to be used in a climate-friendly manner, in keeping with the guiding "Cradle-to-Cradle©" principle."
This environmentally friendly approach of the interim use concept is only a precursor to the timber hybrid building that will be built on the current wildflower meadow. "The Cradle is a unique building that was developed from the parameters of the site. It takes into account the special location on the water, the cardinal directions, and the neighbouring buildings. It establishes a new architectural language that is less design-driven and more conceptual," says Gerhard G. Feldmeyer, Managing Partner at HPP Architects. Through the "Cradle-to-Cradle©" approach, the office building will be ecologically sound throughout. The materials used for The Cradle will be recyclable and can be returned to the circular economy after use.